Structural Calculations
For Timber-Resin Splice Repairs
A typical Structural Calculation involves a timber beam end that has decayed.
Firstly, we use a standard Form for collecting the basic data - dimensions, proposed cut-off length, span, function, visibility, access and loading, tolerances required, timber type and quantity.
This data is fed into our computer based version of the Straight Line Theory of Elasticity and a number of Design Standards are applied.
These Standards help us to produce a practical Design that can be easily installed - they include typical bar diameters (16mm, 20mm and 25mm), typical maximum bar length (400mm, to suit typical Auger size) and bar spacings (45mm to 55mm centres vertically, minimum of 5mm laterally).
The bar layout is then chosen from a standard set, again based on practical considerations - minimum timber base and top cover of 30 - 40mm, minimum 'land' between slots of 25mm.
The Program then tests the proposal and generates an exception report if the bars are too short or too few in number.
The output is printed as a Structural Check Calculation and together with a Site Data Form is passed to the Structural Engineer for qualified opinion. Any recommendations are then incorporated into a revised Design, ready for costing and Client approval.
Structural Guarantees
For Timber-Resin Splice Repairs
Timber-Resin Splice Kits are computer designed, Structural Program checked and then passed to a Qualified Structural Engineer for testing.
If the Structural Engineer approves the Design the first level of 'Guarantee' is his Professional Indemnity Insurance.
The Timber-Resin Splice Kit comprises;
1. A timber component, made to match the original in size (and, if required, wood Species).
2. High Tensile Steel Zinc Plated Bars, to meet the Calculated strength requirements
3. Epoxy Resins - for pouring or injecting into the joining slots or holes.
Guarantees are available as follows:
1. Timber Resin Splice - Beam Manufacturer's Lifetime Guarantee based on Product Liability Insurance. This covers the timber and steel for the lifetime of the timber to which the repair is attached.
2. Epoxy Resins - Resin Manufacturer's Lifetime Guarantee, also based on Product Liability Insurance. This covers the timber and steel for the lifetime of the timber to which the repair is attached.
3. Installation - Specialist's or Builder's Guarantee. If a Specialist Remedial Treatment Company is used they may also be able to issue an Insured Guarantee for any timber decay eradication and treatment works.
Call for a list of Specialists with Timber-Resin Splice experience that work in your area.
POSTS AND LEGS
Cupola Leg Repair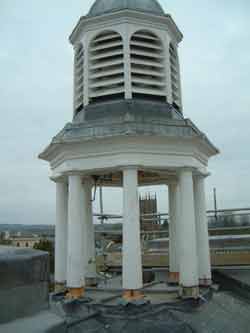 Market Roof Cupola - note legs stripped back
The posts, columns and legs of various structures, if made out of wood, tend to suffer from rot and insect attack where they are connected to each other, or other components, and where they sit on a non-draining surface.
Church Bell Towers suffer in a similar fashion. Even modern structures, particularly those using Glulam beams as external structural 'legs', can be at risk.
In this example, to be found above Tiverton Pannier Market, the legs are in the form of solid wooden columns.
Firstly, the lead flashings were eased back and the decay hacked out. This left a collar on each leg which required restoration.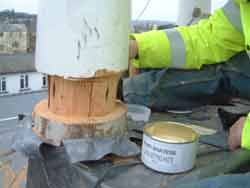 Leg column stripped to sound timber.
Next a temporary 'shutter', made of clear plastic, was installed around the missing part and sealed with quick setting paste.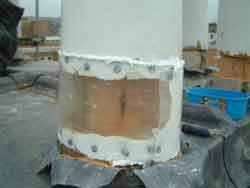 Shutter plastic sealed in place.
Now the void was ready for filling with Structural Epoxy Pouring Resin. This was injected by first pouring it into a large, 1 litre Cartridge.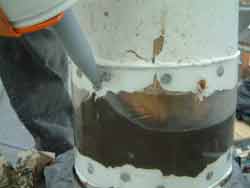 Injection of resin into shuttered void.
The Lead flashings were then restored. Boron Rods and Boron Paste Preservatives were inserted into holes drilled into the core timber.