Structural Timber Beams:
Repairing the rot with the minimum removal of original wood
In
this
issue:
Structural Timber Beams - repairing the rot with minimum loss of original wood, by David Moore
Best Practice - repairs using minimum cut-back of sound timber, by David Moore
Matching Timber Species - a repair using matched Oak for sympathetic cosmetic appearance, by Chris Barratt, Isca Preservation.
Treating the Rot - Boron to the rescue, stop rot and insect attack, by Dr. Bill Beauford.
Epoxy Resins - some background - how we use them, by Angela Workman.
Curved Beams - clever use of simple techniques to restore lintols, by Chris Barratt, Isca Preservation.
Structural Calculations - how the Structural Calculations are made for Timber-Resin Splice Repairs, by Andy Collier.
Structural Guarantees - who Guarantees what? By David Moore.
Posts and Legs - how a Cupola was repaired in Devon, by Chris Barratt, Isca Preservation.
Contact the Editor:
David Moore
help@propertyrepairsystems.co.uk
01626 872886
Around the UK, over the last 20 years, a small group of Specialists has pioneered the economic repair of large structural timbers!
Why then do Building Contractors largely prefer to rip out an entire original timber and replace it with steel?
Why are Structural Engineers still calculating all these repairs in steel?
The new economic conditions require:
* Renewable Materials - sustainable forestry.
* Whole Life Cycle Costing - the real cost of scrapping sound timber, disposal and the real cost of that new steel.
* Minimal Opening Up - leave ceilings, roofs and decorations in place.
Most decayed structural timbers are irreplaceable. You simply cannot buy 'dry' 12 inch x 12 inch (300mm x 300mm) solid timber for installation indoors in a centrally heated building. Certainly 'green', wet (freshly felled) timber is available in some species, but it is definitely going to crack and split ('shake') when exposed to the high temperature, low humidity environments in which we live today. This shrinkage is inevitable and natural and explains why Architects have to build-in big movement tolerances when constructing new buildings in 'green' Oak.
The nearest total replacement that is in manufacture today is the 'Glulam' beam: a nice, striped looking softwood component mainly found in large span situations (schools, churches, gymnasia), made of many thin strips of softwood glued together.
It does not offer a substitute for the look or shape, let alone species of original structural timbers and is usually incorporated in new build projects, or occasionally as complete spans in refurbishment or major extensions.
So, the Timber Repair Review will investigate current best practice in repair techniques and provide detailed Case Studies of projects carried out by the UK's specialists, in the hope that the information provided will encourage Architects, Engineers and other Specifiers' to insist on methods that reduce waste, restore existing timbers and avoid non-sustainable replacement in steel.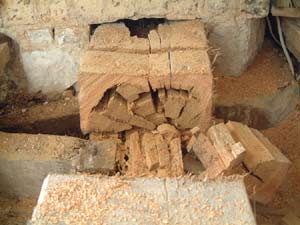 Timber decay often travels up the centre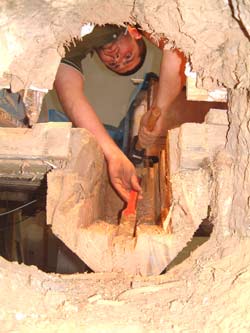 Sometime we can use the shell to carry bars and resin as a form of shutter box. This retains the original outward appearance.
About Isca Preservation:
One of a small, dedicated band of Specialist Contractors prepared to tackle virtually any timber repair Project, no matter how difficult.
The Principal, Chris Barratt, has pursued a policy of excellence that has paid dividends - hundreds of timbers have been restored without the removal of valuable ceilings, roofs or decorations.
Many of these timbers are historic, listed and Oak - irreplaceable, slow grown English Oak.
For guidance on using Specialist Contractors for Structural Timber Repair contact David Moore -
Tel: 01626 872886 ,
E Mail: dcmoore@timber.org.uk.
Also, for Structural Guidance see the TRADA Eurocode 5.
Introduction to Best Practice Structural Timber Repairs
This edition of Timber Repair Review features the repair of decayed structural timbers, mainly 'historic' and 'listed' tie beams, lintols and posts.
Conventionally beams have been replaced completely, 'plated' with large steel plates, fixed through with bolts, or 'scarfed'.
If we want to adopt Best Practice we need first to properly assess the degree of damage. This is the main problem in current Project costing - how to improve the beam assessments that are made as part of a Site Inspection.
To check the timbers we can adopt three simple techniques;
1. Sounding - tapping with a hammer will reveal the approximate extent of internal rot.
2. Drilling - a few 8mm holes, drilled with a wood Auger, quickly reveal the approximate limits of an attack by rot or insects.
3. Ultra Sound - simple scanning gives a more detailed picture (see Timber repair Review Issue 1).
4. Resistograph - fine needle probes leave no damage to the timber, yet produce a detailed, graphed output of timber density, showing 'pockets' of damage and their exact location (see Timber repair Review Issue 1).
The 'greenest' approach, having assessed the length of 'cut-off' required, is to fit a Patented Timber-Resin Splice.
Timber-Resin Splice option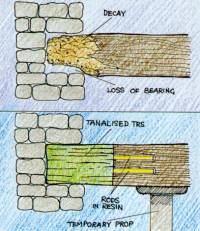 This system combines the best of the traditional scarf repair with the more modern resin repair - maximum timber, minimal resin, but huge strength due to the internally bonded-in high tensile steel bars.
The steel acts in bend, compression and shear, within the resin, fully protected against corrosion.